Moesel Clothing: Sustainable Threads
In most families there are always a handful of special clothing pieces that are passed down generation by generation. To this day, I still have a handmade pink romper with tiny roses that I wore as I child, and had the honor of placing it in our daughter's drawers when she was born. I hope one day that same sweet heirloom can be used again by our future grandchildren, as a way to carry a common thread through our family over the years. The threads that stand the test of time are the pieces that, even at a glance, you can easily see the care and thoughtfulness that was put into making them. When it comes to finding new clothes for Elleanor, we have two main paths -- either second-hand pieces or those ethically-sourced items that I can tell will be lasting artwork in her closet. Moesel Clothing is one such business creating both sustainable art and meaningful employment.
There is something to be said about ideas that are created around kitchen tables. Perhaps it's the inviting and communal qualities of a kitchen that sparks the most thoughtful and life-giving conversations. Whatever the magic, Jacquie Moesel, founder and designer for Moesel Clothing, was having one of those talks around the table with a close friend when the opportunity to employ her passion for social change was brought to life. More than just a children's clothing business, Moesel employs artisans in Lima, Peru to craft quality pieces that tie in both traditional hand-sewing and the beautiful colors of the country.
Today we're chatting with Jacquie about her business, the process in designing and creating the clothing and how her background in social work has provided an avenue to push the fashion industry toward economic change.
We'd like to thank Jacquie for the beautiful sweater that Elleanor wears throughout this post -- it's The Margarita style, and is such a soft and warm sweater. It's the perfect piece for Fall and such a great layering piece now that we're in our Winter weather. You will love all of the styles HERE that Moesel Clothing offers, for both boys and girls. (And spoiler, there are more styles and sizes to come in the new year!).
The story of Moesel began around a kitchen table with a good friend, where we believe all good ideas come to life! Can you tell us a little bit about this day and how the story of Moesel came to be?
Everything started in 2014 when my dear, dear friend of 18 years, Franklin, had come to visit me in Austin. He was visiting from Peru, his home country and where he had been living for the last several years after many years abroad. At the time he was looking for ways in which to further assist Peruvian artisans and small makers in Lima and he brought samples of knitted clothing to distribute in the U.S. While these original samples had gorgeous quality, I did not think they had a U.S. "look" that would sell in the states. We started talking around the kitchen table about designs and concepts that would highlight the artistry, but would also possibly draw a U.S. market. I offered to put together some drawings following that first conversation and from there we started with the adventure of Moesel!
Thoughtfully and responsibly made clothing is so important in our own quest to find new pieces for our wardrobe. Can you tell us about your partnership with the artistry collective in Lima and Moesel's impact on the women sewers that work there?
We currently work with two phases of production with our Moesel collection. The sweaters are first produced by a very small husband and wife team with over 20 years of experience in textiles. They are both extremely knowledgeable and talented makers and the Moesel collection helps continue to support their very small business.
Local Artisans in Lima, Peru create the final product from Jacquie's designs.
Once the sweaters have gone through initial creation, they go to a small women's collective for handsewn details. The women come from the surrounding neighborhoods to meet at a home-based shop. Continuing to provide employment opportunities for the women's collective is extremely important to our business model so all designs include hand detailing that will provide continued work for the collective.
You've had the opportunity to actually visit the artisans and see the process for making Moesel's beautiful sweaters! What was this experience like?
I have had the opportunity to visit the makers twice – both in 2016 and also again this year! Both visits have been extremely important. During the visits, I work closely with the makers to discuss design and production options so that the collection best highlights the skills of the artisans and that the production schedule fits in with any other work that they may have from other companies. The visits also allow me to really see and understand the amount of work that goes into each garment. Once you see the time and skill that go into each garment, you can fully appreciate the beauty of slow fashion!
I loved reading that your background is in social work and programs – how does that aspect of your life intersect with your love for fashion design?
I have spent the last twenty-plus years working with direct service or policy-level programs with a goal of improving the social structures we live in and with. While I always, always loved fashion, I never considered pursuing fashion when I was younger because I was drawn to work that would create impact and I felt the fashion world was too empty and superficial.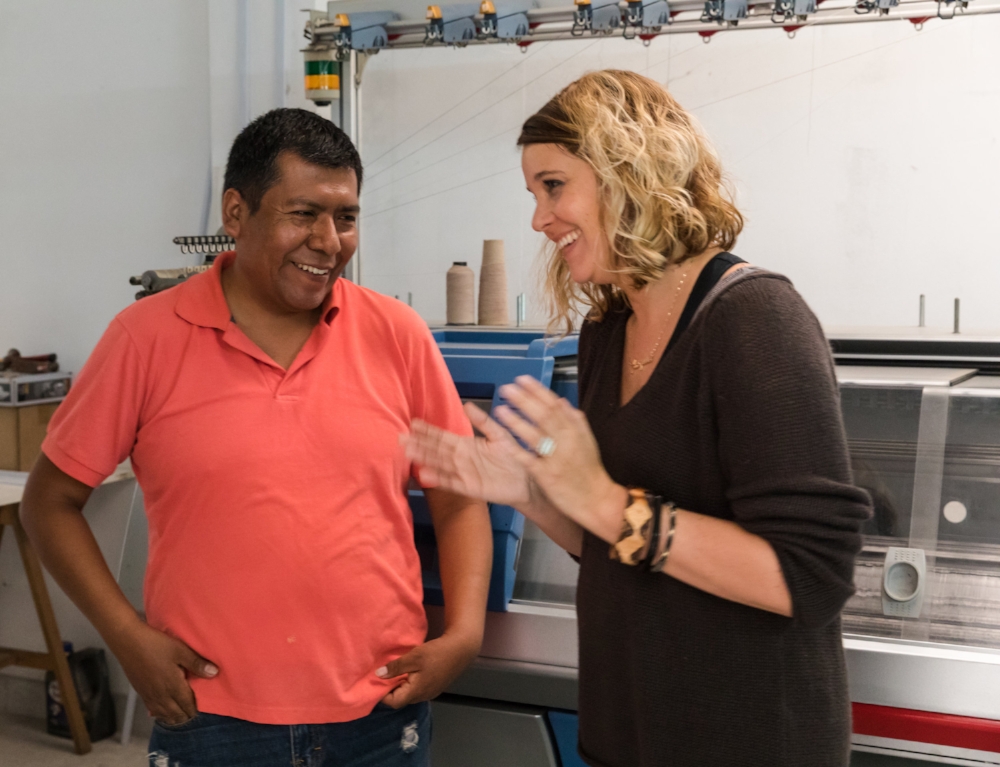 An Insider's Look to Production.
The Moesel project really stemmed from an interest in creating economic opportunity for the makers. Being able to work with fashion in a way that also helps to provide employment opportunities and supports a more ethical production process has been such a wonderful combination of so many of my interests and I feel extremely fortunate to have stumbled into this work.
As the designer, what was some of the inspiration behind your current children's collection?
I am inspired by so much, but I really tried to keep this first collection focused on the colors of Lima, a playful sense of style, and the hand detailing that would best highlight the work of the artisans.
The name "Moesel" has a deep family connection weaving several generations together! Can you give our readers a brief insight into the significance of choosing this name for your business?
Moesel is my great-grandmother's last name and my maternal grandmother's maiden name. My great grandmother made most of my grandmother's clothes and then my grandmother went on to study fashion design when she was young. Although my grandmother never pursued fashion professionally, she made many of my mother's clothes throughout her life. When I was thinking about developing this project, I loved the idea of carrying on the name Moesel through the brand to honor the history of making and designing in my family, as well as to honor the idea of thoughtful craft.
Your collection is just beautiful, and we love that you have options for both girls and boys! Any plans for future product offerings?
I am currently in the process of sampling items for the next collection. Based on feedback from this year's work (as well as my own kiddo's requests), I will be expanding the size offerings and including some new pieces, including skirts, dresses, hats, and scarves.
As a busy momma and entrepreneur, what are some tools that keep the creativity and inspiration alive in you? (Coffee is a totally acceptable answer!)
Coffee – yes, for sure – that is a must! From a design perspective, I am also a big fan of seeing art as much as possible (all mediums) and making time for good, old fashioned magazines.
I am also lucky to live in Austin, Texas, which is home to many ethical businesses. I try to stay very connected to businesses and makers both locally and online that are working with ethical production, which helps to continue to inspire thoughtful solutions and models for making.
Thank you for the opportunity to share the story of Moesel!