Mustard Seed Marketplace
When we started our blog this summer, our passion was to highlight small businesses using their passions and talents for good. It's been humbling as we continue to encounter people who are fearlessly pursuing the calling God has placed on their hearts. The work of small businesses, especially those who are making conscious efforts to curate ethically made products isn't always an easy road to travel. A few months ago, I crossed paths online with Lisa Stoltzfus from The Mustard Seed Marketplace after our mutual-friend Kristine Rego linked us together. Lisa's business for providing a local and online storefront with ethically-made accessories, apparel and home goods embodied our mission statement so perfectly. Read only a few sentences of her story, and you'll fall in love with her heart for others, and her courage to follow the path God had placed before her. Add in her dreamy family farm, a barn that hosts her local shop and her adorable puppy Merle and you can say we were a bit smitten with the Stoltzfus family.
Lisa is not just a business owner, she is an advocate, a freedom fighter and a creative genius. We hope you enjoy our conversation!
P.S. We've included some of our favorite pieces from Lisa's shop throughout this post. Today, December 19th, is the last day to get guaranteed delivery by Christmas! ALSO! Lisa graciously is providing 10% off to all of our readers when you use the code: Elleanorandindigo10 through December 31st-- so go grab some beautiful, ethical goodies! As a bonus, The Mustard Seed Marketplace is also donating 10% of all online purchases this month to Dressember, which Lisa is participating in this year for the 4th time!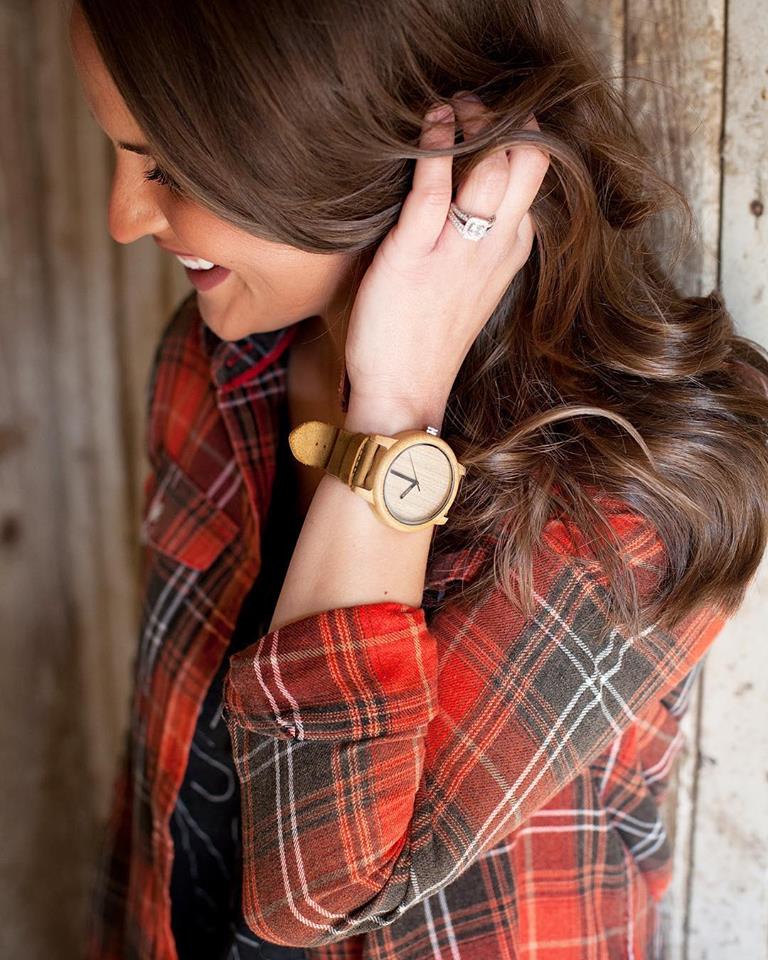 From The Mustard Seed Marketplace
Can you tell us a little bit about you?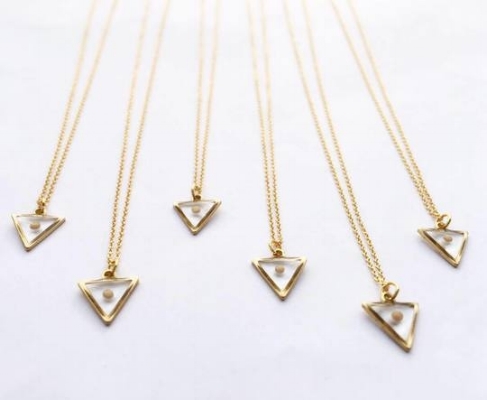 Based off of Matthew 17:20 - Faith the size of a Mustard Seed. A perfect reminder to wear around your neck!
I am the 5th generation to grow up on our family Dairy Farm in Northern Indiana! I grew up 20 minutes from where I live now, with my husband (Carl) on his family farm! I graduated with a degree in Criminal Justice/Communications in 2011, and moved to Nashville, TN for the next 3 years before moving home to get married! (Nashville has my heart, but there's no place like home!) My husband and I will celebrate our 3 year wedding anniversary this April! We live on the farm with our Australian Shepherd, Merle. I enjoy spending time with our families, all things antique/rustic, being an aunt, helping my husband on the farm, and of course - ethical fashion!
How did The Mustard Seed Marketplace come to be?
I have had a heart for Fair Trade for as long as I can remember! My Grandma used to gift my sister and I items from Ten Thousand Villages, so at a young age, I started to learn the importance of using my purchasing power for good! Fast forward to 2013 when I became an ambassador for Noonday Collection - and my love for Fair Trade grew even more! I was advocating on a daily basis for artisans living around the world, and during my time as an ambassador, I was able to visit our artisan partners in Haiti, Uganda, and Peru! My business with Noonday resulted in a lot of nights away from my husband, and a lot of traveling for trunk shows - and I started to feel the Lord nudging me in a different direction. My heart (especially over the last 4 years) has been FOR the artisan, so it was important to me to find a way to continue advocating for artisans around the globe. Afterall, I had seen the impact firsthand time and time again through my travels – and saw the need. Months before TMSM came to be, God began planting a seed in my heart to do more. Little by little I saw the pieces falling into place before my very eyes. In May of 2017, I sat down and listed out different partnerships that I would love to have with Fair Trade + Locally Made + Give Back Brands. By August 2017, I was hosting my first event in The Hutch (my small shop in our barn) with over 100 shoppers!
What was your inspiration behind the name of your business?
Juliette Convertible Leather Bag
Handmade in Haiti. Full-grain Haitian vegetable tanned leather. Solid brass hardware. Interior leather pocket. Worn as a backpack or cross-body tote.
After I decided to launch The Mustard Seed Marketplace - I felt the overwhelming weight of naming my business. (It felt like I was choosing the name of a child! HA!) I began sifting through some of my favorite pieces of scripture for some inspiration, and Matthew 17:20 stuck out to me. "He replied, "Because you have so little faith. Truly I tell you, if you have faith as small as a mustard seed, you can say to this mountain, 'Move from here to there,' and it will move. Nothing will be impossible for you." 2017 has been one of the hardest, but best years for a number of reasons. It started with a cancer diagnosis for my dad in January, and resulted in a routine procedure leaving him hospital bound for the entire month of March, with an emergency surgery in the mix where we almost lost him. It was a roller-coaster of a month, and after that, it really got me thinking about what was important to me, and where I wanted to devote my time. It was also one of the best years - as it resulted in the birth of my business! When searching for a name, I came back to "The Mustard Seed Marketplace" as I was continually reminded of God's faithfulness throughout my life, this past year, and the faith that I've had through it all! I continually pray for the Lord to "use this business for your honor and glory." And I believe He's doing just that!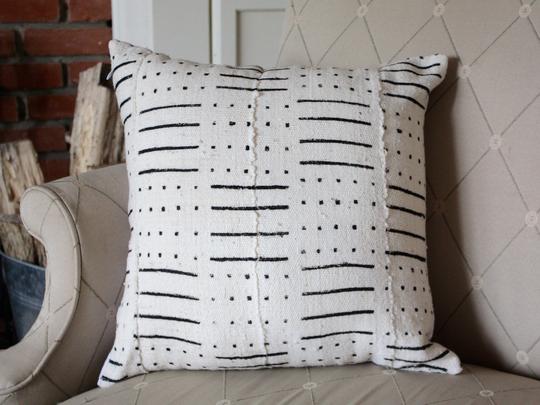 The traditional mud cloth fabric is hand-printed and made in Mali, and then the pillows are sewn together in Senegal.
As a business dedicated to fair trade and ethical brands, what are some of the ways TMSM is currently making an impact?
We currently partner with over 30 groups that are Fair Trade + Locally Made + Give Back Brands. It was so important for me to be able to create a space where my community could shop brands who care, and causes they love! Everyone has something they're passionate about - and my goal is to offer products that are ethically made that support causes they care for most! We carry products that feed the hungry, support families walking through infertility, provide jobs for overcomers of sex trafficking, support small businesses, provide jobs at a living wage for artisans in over 13 countries, sponsor children, keep families together, fight against the orphan + slavery crisis, and so much more! Every item purchased is making an impact in the life of an artisan or maker around the globe! In addition to that, we are working on various give-back campaigns where we donate funds to organizations that our community is passionate about! This month is Dressember! We are dreaming up great things for 2018!
Why was having a curated shop of ethical and fair trade items important to you?
The Tala Scarf is beautiful, super soft and ethically-made! This fair trade scarf is handwoven by women in Egypt and made from Egyptian cotton and viscose.
Throughout my travels around the globe, I have thoroughly enjoyed shopping the local markets, and the story that each piece tells. I want the items in my shop to tell stories of hope and redemption, to represent dignified work – and families staying together because their parents have a job. My goal is to create a marketplace for artisans locally + globally! I take great pride in every piece I carry, because I appreciate how much work goes into the process. I am proud of each and every PERSON behind the items I carry, and I'm honored in playing a part in getting their gorgeous handmade creations in the hands of many!
This season, many of us are running around trying to find the perfect gift for a loved one or friend -- what are some of your favorite pieces in the shop?
It's not too late to shop for Christmas gifts! Today (19th) is my last day for guaranteed Christmas delivery! I LOVE the Mustard Seed Necklaces, and they make the best gift! The Leather Earrings are always such a hit because they're stylish but also so lightweight that you forget you're wearing them! The graphic tees have been really popular, and when in doubt, get a candle, mug or soap!
This year (and the last several years) you have participated in Dressember! Why did you get involved in this movement and how has it personally impacted you?
Dressember.
"You may choose to look the other way but you can never say again that you did not know."
Yes! This is the 4th year that I have participated in Dressember! After hearing the stories of survivors - and knowing there's still millions trapped in captivity, I feel it's the least I can do to advocate by wearing a dress all month long! (Although December in Northern Indiana can be brutal!) I am a firm believer in advocating and raising awareness in any way possible! I know for me personally, it's a constant reminder all month long, and a great reason to share with family, friends, and strangers the reason WHY I'm wearing a dress!
During my time in Uganda, we were able to visit the IJM office in Kampala and hear firsthand how the money raised is being used to fight injustice in their communities, and communities around the world!
"You may choose to look the other way but you can never say again that you did not know."
― William Wilberforce
During this year's Dressember Campaign, TMSM is joining in and supporting the fundraising efforts! Can you tell us a little bit about how that works?
Yes! In addition to participating in Dressember myself, I am donating 10% of all online orders this month to Dressember! Since Dressember is so near and dear to my heart, it was important to me that I not only participate – but get my business involved!
**Learn More about Lisa and The Mustard Seed Marketplace by visiting her Facebook Page and Instagram Page! Interested in donating to Lisa's Dressember fundraiser? Click Here! We so enjoyed our chat and can't wait for everything in store for TMSM in 2018!**
Note: All photos courtesy of TMSM. Thank you!