On The Cutting Edge
As we move forward with E&I we want to continue highlighting people and products that are creative, unique, and responsibly sourced. As we have done in the past, we will also highlight as many local businesses as possible. Helping to spread the word about amazing people right in our own backyard is something that we're extremely passionate about. Each year that we're in South Carolina we find more and more that we can't wait to share with our family, friends, and now our followers.
This post is one of those unique local artisans that has truly mastered his craft. Reed Moore is a master blacksmith who operates his forge outside of Florence, SC. Red Forgeworks specializes in producing carefully engineered, hand-forged kitchen knives, tools, and iron furniture using traditional methods.
Reed was kind enough to answer some question we had for him about his work. We're so happy that we can share this Q&A with you! We can't thank Reed enough for being a part of what we're doing here with E&I and for continuing to do what he does. The passion he puts into his work can truly be seen through each and every piece that comes out of his forge.
How did you get started with metal working and where does the passion for your work come from? What keeps you so motivated to continue with what you're doing?
I learned the basics of blacksmithing while I was a student at Warren Wilson College in Swannanoa, NC. Warren Wilson is a work-study college, which means in addition to traditional coursework, students are trained on the job in a wide variety of skills, including blacksmithing. During my time there, I had the opportunity to learn from experienced blacksmiths and make both functional and decorative items for campus like bike racks, door handles, and signs.
While I was working toward a degree in chemistry, I took time off to pursue blacksmithing more directly at the Penland School of Craft. While there, I had the opportunity to learn from Brent Bailey, a Master Blacksmith, who specializes in tool-making for the blacksmithing trade. My experience there gave me a new perspective on making tools and pushed me to think about how the tools help blacksmiths do their work. The tools have to be well made and strong enough to withstand extreme conditions.
I also spent time working at a machine shop that specialized in manufacturing industrial machine knives. My time there was good training for learning to create a knife built for strength and sharpness and for learning how to create a beveled edge designed for a specific use.
How did you come up with the name Red Forgeworks?
I wanted a name that was simple and classic, which is what I aim for my knives to be. I shortened my name by dropping an 'e' and it seemed like a natural fit. Forged steel is also red hot while being worked (at temps ranging from between 1100-1300 Fahrenheit!), so it's fitting in that way too.
The knives seem to vary in size quite a bit, but how long on average does it take to complete one knife from start to finish?
I enjoy making things, the process and solving problems. I enjoy working on ways to constantly improve in terms of design and process.
The time that it takes to create each knife varies with the type of knife being made and the material itself. For instance, a hog splitter takes much longer to make than a cleaver due to size, weight and thickness of the steel. Fillet knives are also challenging for the same reasons at the other end of the spectrum because they're so thin that they're delicate when being forged. The natural characteristics of the metal and the wood, and even the leather used to make the sheaths, can sometimes create challenges and make the work interesting.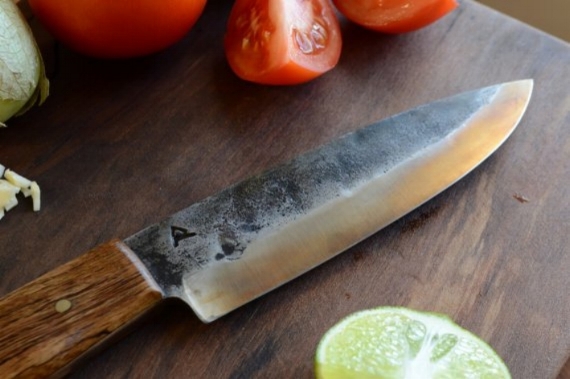 Your knives are so unique, how do you go about choosing the material you'll use for each individual blade? And where is that material sourced from?
I try to consider the best material for each project. I choose the steel based on what the knife will be used for, the conditions that it will be subjected to, and the characteristics that the end user will want. For example, the Damascus steel that I use is a good choice for a fillet knife because it can maintain an ultra-sharp edge and still provide the flexibility needed when preparing a newly caught fish.
In choosing wood for the handles, hardness and rot resistance matter, but I also look for color, grain features, origin, and the story behind the wood. I try only to use local wood from the Carolinas and have favorite places I go to find new pieces, particularly in the mountains. I also like to use reclaimed wood, especially if I find some that has an interesting grain, figuring, or it's something I haven't come across before.
Vegetable/Herb Chopping Knife
Do you have any plans to expand? And if so what's next for you?
I'm always thinking about my next knife design. With some help from my girlfriend and friends, I've gathered a collection of distinctive knife styles from around the world that inspire me and I'd like to incorporate my own take on these unique pieces into my work in the future.
I'd like to start doing architectural projects again and expand my line to create other kitchen products and homewares. In the past, I've enjoyed making furniture and tools and enjoy thinking about how I could bring my own perspective to these objects.
What keeps you here in South Carolina and what about this state do you think is so appealing to other artisans?
I grew up in South Carolina and my family still resides here. As a long-time resident, I see a lot of potential for growth, and I hope I can help make this State a better place in my own way. I enjoy kayaking and fishing, and feel lucky to enjoy the many beautiful, natural places here.
And just for fun what's your go-to food and beverage?
Tacos al pastor and a good beer, although I'm a fan of high quality apple juice!
Paring/Outdoor Utility Knife
What do you say to those who may be on the fence about investing in one of your knives? What are some intangibles that your products have over cheaper inferior products?
I offer a lifetime warranty, so you're not just buying a knife but making an investment. Each of my knives--and sheaths--are handmade, hand forged, and finished by a trained craftsman who carefully considers every variable that goes into the product's creation throughout the process. If that's not enough, you're also supporting a small, artisan business and ensuring the continuation of a skilled trade.
Are you doing this all yourself or do you have a team of artisans that help you?
Every knife is made by me, from start to finish. My mom helps me manage the administrative side of things and makes sure every item makes it to its owner.
Learn More:
Please check out all that Reed has to offer at Red Forgeworks and help support all local artisans! You can also find Reed on Instagram HERE.